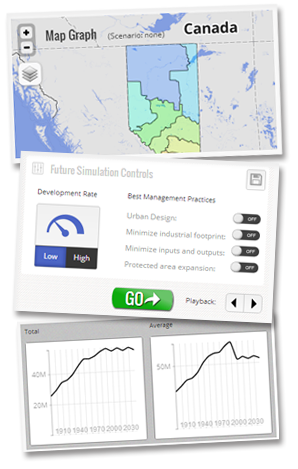 Visualize
See the ways in which landscapes have been transformed by land use in the past century. How have forestry, energy, agriculture, transportation, mining, settlements and other human activity changed in past decades and how are these land uses distributed across the province?
By exploring various future "what-if" scenarios, the user can creatively assess future changes in social, economic, and ecological indicators from 2010 to 2060. This web-delivered tool is fast, easy to learn, and works equally well on computers or tablets.
Customize
Easily adjust your simulation based on land-use development rate and deployment of best management practices to understand how these management levers affect the performance of social, economic, and ecological indicators.
Compare
ALCES Online provides fast, attractive, and customizable maps, graphs and tables. These outputs can be rapidly created from a broad suite of comparative scenarios, and then saved to your unique user account for future reference and display.
Client Groups
In addition to a basic, web-delivered, free version available to everyone, more comprehensive and customized versions have been prepared for municipal and urban planners, watershed planners, provincial governments, industrial sectors, wildlife biologists, and First Nations communities.
Data Sources
The base version of ALCES Online is populated with the best land use and biophysical data freely available within the public domain. Historical and future land-use trajectories shown in ALCES Online originate from the ALCES Simulator and ALCES Mapper.
The ALCES Group makes every reasonable effort to provide Users with documentation detailing all relevant current and future land-use assumptions. Stratification themes within ALCES Online use a broad selection of GIS shape files to assess regional indicator performance.
Subscriptions
Commercial versions of ALCES Online are available to clients based on an annual subscription fee negotiated with the ALCES Group. Subscription fees vary based on the complexity and number of subscriber seats, study areas, indicators, and future land use scenarios.
Enter